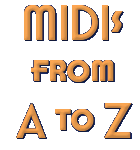 Welcome to my MIDIs from A to Z Page!
Below you will find pages from A to Z which have all the MIDIs alphabetically that I currently have on my other MIDI pages, which are by catagory. If the MIDI isn't listed, then it's not here. I hope you find what you need, and be sure to sign my Guestbook so that I know you were here. You can also Email Me. Take care.

~ cookie ~


Remember, these MIDIS are zipped so you will need a program like Winzip to open it after downloading the MIDI.
Also, if you would like more information about The MIDI Fight, go to Music Relief Association and read the latest about it. You can even join up. I did!
Disclaimer


Featured MIDI
"Oh, What A Night"



Frames No Frames


|| 50s MIDIs || 60s MIDIs || 70s MIDIs || 80s MIDIs || 90s MIDIs || 2000 Millenium MIDIs ||
|| A to Z MIDIs || Christmas MIDIs || Classical MIDIs || Complete MIDI Files || Country MIDIs ||
|| Inspirational MIDIs || Love Song MIDIs || MIDI Links || Movie MIDIs || New MIDI Jukebox ||
|| Ragtime MIDIs || Reggae MIDIs || Sequencer Spotlite || TV Tune MIDIs ||