©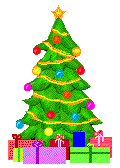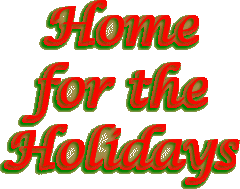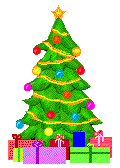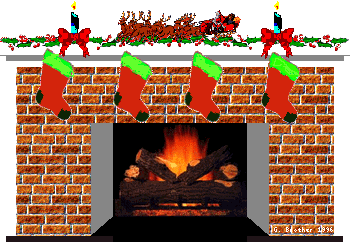 My family usually visits relatives on Christmas Eve, bringing gifts, and just enjoying being together for the holidays. Afterwards, we go back home and then its our turn. Everyone gets to open their presents, paper is everywhere and usually I have fixed a buffet for snacking. Everyone is just too excited to eat a normal meal. Later in the evening, the kids go to bed to wait for the visit from Santa Claus. He brings the one gift they wanted more than anything. The next morning, Santa has left a gift for everyone and the excitement begins again! On Christmas Day, I usually fix a more traditional meal but have been known to fix homemade pizzas too! My mom will come to my house and eat with us and share the day. And thats my Christmas traditions.
~ cookie ~

I would like to share what our Christmas' are like. First and foremost, I have tried to instill in the children the true meaning of Christmas .. the birth of Jesus Christ. On Christmas eve, the children set out something for Santa to eat ...mostly cookies and milk. When we finally got them to sleep, my husband I would put all the WRAPPED gifts under the tree ... anticipating their excitement in the morning. Never have we had to "wake them up" - amazing how the little alarm clocks in their heads seem to get up about 3 or 4 am. Since we knew it would be impossible for them to go back to sleep - we agree that they can come downstairs and see what Santa has left. But we always said a family prayer together before they went downstairs. My husband plays "Santa" giving out gifts one at a time - for all the see what each other gets. The rest of the day is spent eating, playing with toys, eating .. well, you get the idea. Hope each of you has a great Christmas this year !
~ Susan ~

We have 8 children and 14 grandchildren, so Christmas is a big affair at our house. On Christmas eve , me and my grandchildern bake cookies , so that Santa will have something to eat after his tiring trip. We live in south Texas , so Santa has a long way to travel. My children and I usually put all the wraped gifts under the tree after the little ones have gone to bed. About 6:00am the next morning I get everyone out of bed to open gifts and have a hearty breakfast. Of course I have stayed up all night cooking the BIG meal for Christmas day. I have always tried to instill in my children and grandchildren the real meaning of Christmas. I always remind them that it is the birth of Jesus and the grandkids want to sing Happy Birthday to Jesus. Hope you have a Happy Holiday Season!!!!!!!!!!
~ The Rusling Family ~


If you have a special Christmas tradition or favorite thing to do during the holidays and would like to share them, please Email Me and I will put them here. Thanks for taking a look and Happy Holidays from The Cookie Jar!


Back to A Christmas Celebration
thecookiejar@mailcity.com
© Copyright 1997 - 2001, The Cookie Jar
Most graphics were collected from the web over the last couple of months. If yours is here and you would like a link, just let me know!
The background and buttons are mine and free to use. A link back would be appreciated.